It is our HOPE that players throughout our state will be inspired to give as Dr. Coon has and to use their talents to the best of their ability.

As of 2010, the tournament has been renamed to "Trey Altick Louisiana Prep Classic". Forty four teams participanted this year, playing in eight different venues throughout the area. The baseball players and coaches are treated to hotel rooms and meals for the duration of the tournament. All the proceeds from the gate and concessions are put back into each of the local school's baseball programs that host the tournament.
A special thank you goes to St. Fredricks Head Coach, Tim O'Neal, and Catherine Coon.
We would also like to thank our 2011 sponsors: Altick Dermatology, Dr. Collins Coon - Gastrointestinal Consultants, CenturyLink, CFM Enterprises, Community Trust Bank, John Allen, Mangham Chevron, Dragon Support Group, North LA Orthopaedic & Sports Medicine Clinic, Peacanland Mall, Ruston/Lincoln Convention & Visitors Bureau, Ryan Automotive Group, Verizon Wireless, Monroe/West Monroe Convention & Visitors Bureau, The Atrium, Diamond Baseball, Pepsi Beverage Company, Fox's Pizza, and Clarion Inn and Suties.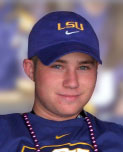 Because of the special meaning of the number 7, we have chosen 7 purposes for Trey's foundation. The causes we have chosen to champion and support are in HOPE of bringing a better life to many people.
I press on toward the goal to win the prize for which God has called me heavenward in Christ Jesus.

Philippians 3:14

---

Support Neville Tiger Baseball!
Check the schedule for games (Freshman, Junior Varsity, and Varsity) that will be played in our surrounding area.
---


We hope to take the tragedy of Trey's loss of life and wrap it in layers of love, presenting it back to the world as a gem of hope to those in need.